With over a billion daily active users worldwide, Facebook is one of the most popular social media platforms out there. By creating a Facebook business page, you allow your potential readers, customers, and clients to easily connect with you and ultimately boost your online presence.
Setting up a Facebook business page is a straightforward process. You can set it up quite easily even if you have never used Facebook before. So, if your business is brand new and you have not set up a Facebook business page yet, or you did not create it because you are not very familiar with the process, then this guide is for you.
Following are the steps to set up a Facebook business page in the "Classic" layout design:
Step 1 – Create a Personal Facebook Profile
A Facebook business page is a separate page linked to your Facebook profile. Therefore, you can only set it up if you have a personal Facebook account/profile. Visit the Facebook homepage and Sign Up. If you already have a profile, skip this step.
Step 2 – Use the "Create" > "Page" Option
Log into your Facebook account and then use the top-right menu to find the Create option. Click on it and then select the Page option.
Step 3 – Choose Your Type of Page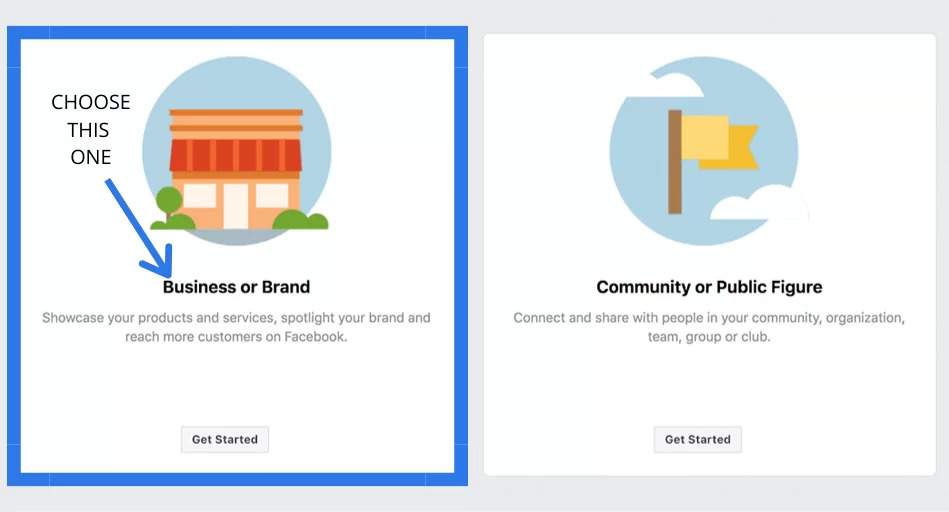 Once you choose the option to create a Page, Facebook will ask you to choose between the two different types of page: Business or Brand, or Community or Public Figure. Since you want to set up a Facebook business page, choose the Business or Brand option and then click on Get Started.
Step 4 – Input Your Business Details
After the above step, you will see a list of textboxes requiring you to input your key business details. These include Page Name, Category, Address, and Phone Number (optional). Carefully input these details and once you are finished, click on the Continue button.
Step 5 – Add a Profile and Cover Photo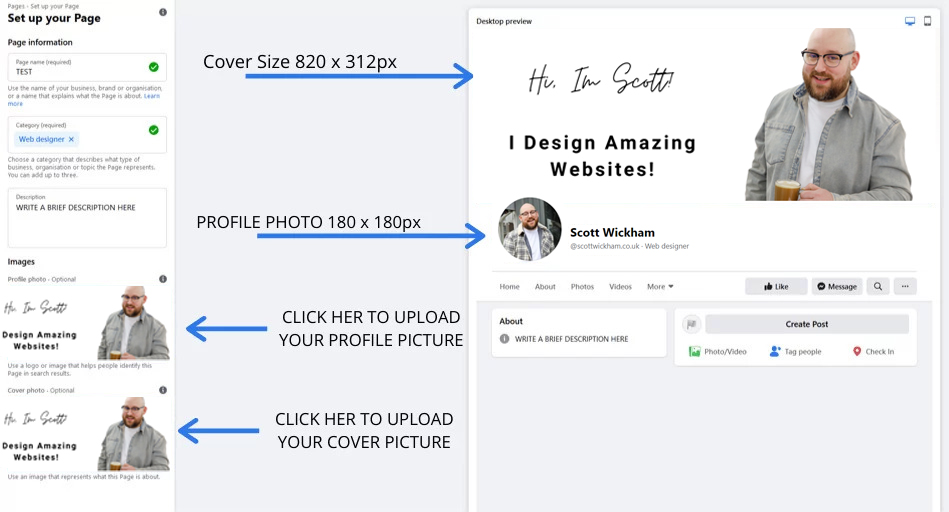 The next step is to add a profile and cover photo. Facebook will first ask you to upload a profile picture. Keep in mind that this page that you are creating is a representation of your business. So, instead of uploading your personal photo, it is recommended that you use this space to upload the logo of your company. If you don't have a logo yet, then upload a photo of your workspace, employees, truck, etc.

After this, you will need to add a cover image. It is basically the background image of your Facebook business page. Add a professional-looking photo that accurately represents your business.
No matter what photos you choose as profile and cover image, it is recommended that you make sure that they are the right size to capture all the details. This means 820 x 312 pixels for cover photo and 180×180 pixels for profile image.
Step 6 – Invite Friends to Spread the Word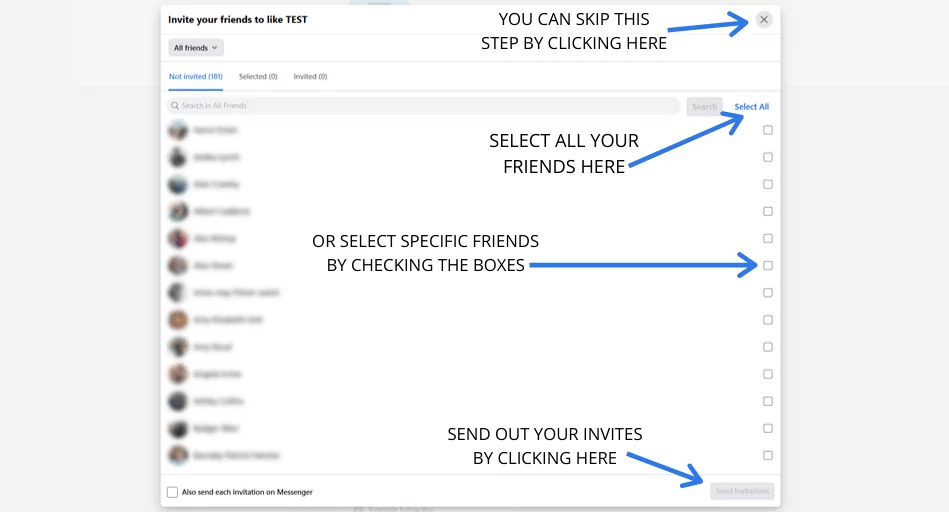 Once you have uploaded both profile and cover images, Facebook will show a prompt asking you to invite your friends to like your business page. Even though many of your friends won't be clients, it is recommended that you invite them anyway as it will help you get more likes, improve engagement, and boost your visibility on Facebook. So, add as many friends as you wish and encourage them to share your business page with their friends as well.
You can also choose to skip this step and invite your friends later on by clicking on the three dots below your cover photo located on the right side of the Share button and then choosing the Invite Friends option.
Step 7 – Update Your About Section
Find and click on the About section in the left-hand menu so that you can add additional details to your Facebook business page. The About section is a place that contains information that informs readers about your business, from your menu or products to the different methods to contact you. Details such as your operating hours, email address, website address, etc. can also be added here. It is recommended that you add as much to this section as possible. This is because by doing so, you will make it easier for your potential followers/customers to contact you, learn about your business, and find your business page on Facebook.
Step 8 – Add a Call to Action to Collect Leads
Adding a Call to Action (CTA) to collect leads is the final and arguably, the most essential step in setting up a Facebook business page. The CTA button will appear below your cover photo on the top-right side of your business page. It is free to use and can help your business generate more leads, and ultimately more sales, so don't forget to add it.
To add a CTA button, click on the "+ Add a Button" option. You can then choose from the various available button types, e.g. book with you, shop with you, learn more about your business, download your app, etc. These buttons allow you to decide where you want to send people when they click the Call to Action button. So, it is recommended that you choose the button type that best suits your business. For instance, you can use the Shop option if you are a brand selling products or use the Book with You option if you are a hair salon.
And there you have it! By following the above-listed guidelines, you can set up a Facebook business page where your customers can find you online and book new jobs. As you can see, the instructions are pretty easy to follow so you should be able to start today with a professional Facebook business page even if you have never used Facebook before.